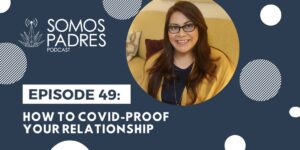 In this episode, Paulo and Yesenia welcome Licensed Marriage and Family Therapist, Yanira Pena, to the podcast to talk about how to COVID-Proof our relationships. Recently the news has highlighted that one of the highest googled topics during quarantine is "how to get a divorce" so when Yesenia came across Yanira and her colleague's webinar on this very topic, she knew that we could all benefit from having Yanira on the show.
Get ready to hear some hard truths and incredibly sound guidance to help our relationships make it through this stressful time.
You can find Yanira Pena on Instagram at @nbcounselingtc_105 and on her website at nbcounselingtc.com.
Thank you so much for listening!  Don't forget to subscribe and leave a review on your favorite listening platform.
Follow Somos Padres: @somos.padres
Follow Yesenia: @iam.yesenia
Follow Paulo: @paulomenchaca
---