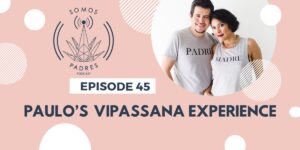 In this episode we welcome back Paulo to the podcast and he finally shares his Vipassana 10-day silent meditation experience. He shares what the most challenging part of the experience was for him and also his breakthroughs. Yesenia also shares what she has seen as the major difference in his behavior since returning from the retreat.
For more information on Vipassana meditation please visit https://www.dhamma.org/en-US/index

Thank you so much for listening!  Don't forget to subscribe and leave a review on your favorite listening platform.
Follow Somos Padres: @somos.padres
Follow Yesenia: @iam.yesenia
Follow Paulo: @paulomenchaca
---