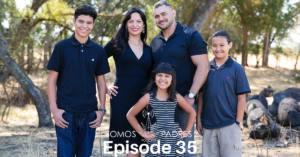 In this episode Paulo and Yesenia start off by sharing their recent parenting experience while hiking with their children. Paulo and Yesenia take time to reflect on the moment and Yesenia helps Paulo to realize how his strong reaction was rooted in his own core issues and not a reaction linked to the kids behavior.
Also, Paulo and Yesenia share the second part of the interview with Mimi & Junior Magaña. In this second part, they dive into Mimi and Junior's parenting perspective, especially their take on parenting teenager's. Mimi and Junior each share the core values that they are instilling in their kids as well as their favorite podcasts and books!
If you want to follow our compadres, here are their handles.
@pinkmamamimi
@juniormagan
@forced_rep
Thank you so much for listening!  Don't forget to subscribe and leave a review on your favorite listening platform.
Follow Somos Padres: @somos.padres
Follow Yesenia: @iam.yesenia
Follow Paulo: @paulomenchaca
---