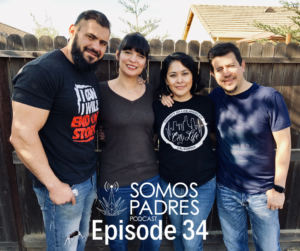 Welcome to this episode of Somos Padres. This episode is incredibly special for Paulo and Yesenia as they interview one of their favorite couples, Junior and Mimi Magaña, who are also their compadres.
Mimi and Junior have been married for 17 years and are raising three children, Moose 15, Xavi 11 & Maricruz 8. Their relationship began 21 years ago when they became high school sweethearts at 17 years old. They describe their household as a chaotic mix of humor, hugs and hustle.
Mimi teaches Spanish for her alma mater at Lindhurst High School. Her passions are learning and teaching and she has spent the past 15 years trying to break the cycle of poverty in her community.
Junior's passion is bodybuilding. He has spent the last decade of his life working at his craft and along the way has been able to help many people through coaching and training.
Mimi & Junior believe that the best thing they can do for their children is to teach them to live a life driven by love and not by fear. Their goal is to let them know that if they're truly passionate about something, and put the work in, they absolutely can't fail.
In this first part of their interview we hear their love story and how they keep their relationship strong.  We also hear how Junior  became a bodybuilder and how that personal transformation made all the difference.  Take our word for it, you do not want to miss this episode!
If you want to follow our compadres, here are their handles.

@pinkmamamimi
@juniormagan
@forced_rep
Thank you so much for listening!  Don't forget to subscribe and leave a review on your favorite listening platform.
Follow Somos Padres: @somos.padres
Follow Yesenia: @iam.yesenia
Follow Paulo: @paulomenchaca
---